Dear Members: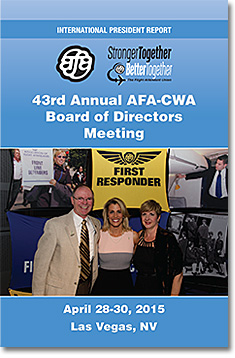 The Board of Directors Meeting took place this year in Las Vegas on April 28-30, 2015.
The Annual BOD meeting is the opportunity for all Local Presidents, MEC Officers, and International Officers, and other activists to convene to discuss priorities for the upcoming year.
On this webpage, you will find the International Officer Reports, the 26 Agenda Items, and all Resolutions.  Additionally, we have posted our Dues Pie Chart, as well as an extended explanation of AFA dues, and how these are used to fund our Flight Attendant priorities.
This meeting provided an opportunity for our elected Officers to hear a wide variety of presentations on topics of great importance to our profession.  One presentation by Airline Ambassadors concerned Human Trafficking (http://airlineamb.org/our-programs/human-trafficking-awareness/) and what we as Flight Attendants can do to identify the signs and to stop the suffering.  Another presentation by Congressman Peter DeFazio (OR-4) concerned defending our bargaining rights and protecting our jobs by stopping unfair international trade agreements.
We heard from some key labor leaders.  From within CWA, we heard from President Larry Cohen and District 9 Vice President Laura Reynolds.  From outside our Union, we heard from Ed Wytkind, President of the Transportation Trades Department of the AFL-CIO.  Ed spoke of the activities of the Gulf States airlines, and how they are positioning to dominate the global airline industry – something we must address to protect our careers.  We also heard from D. Tailor, International President of UniteHERE, who spoke of the best tactics to mobilize members – this will help us to advance our contracts or protect our jobs.
Very importantly, we had great participation from the leaders of the Retired Association of Flight Attendants (RAFA).  Among the many RAFA members that were present was President Emeritus Pat Friend.  Additionally, our AFA Historian, Georgia Neilson was present and honored for her her many decades of work on behalf of members, as well as her role in establishing RAFA.
Finally, we had the opportunity to present some awards to deserving union Flight Attendant Representatives and International Staff.  We had an unprecedented number of Lifetime Achievement awards to Diana Hui Hui (Hawaiian), Diane Tucker (United), Linda Farrow (United), and Clare Burt (AFA Staff).  Each of these women has dedicated her entire work life striving to improve the contracts careers of Flight Attendants.  We also presented the Edith Lauterbach award for outstanding performance to Anita Jwanouskos (Piedmont) for the exceptional work that she has performed for Flight Attendants this past year.
In solidarity,


Kevin P. Creighan
International Secretary-Treasurer