Dear Members:
Our Executive Board has called for a Special Meeting of the Board of Directors (BOD) to take place, and this meeting has been scheduled for September 23, 2013.
As a reminder of the constitutional decision making process within our Union, the BOD is the highest governing body, and it includes all Local Presidents, as well as MEC Officers and International Officers.  The Executive Board consists of MEC President at each airline as well as the International Officers, and it provides guidance to the International Officers when the BOD is not in session.
The Executive Board resolution that called this meeting contains the topics to be discussed: "The Executive Board calls for an in-person Special Meeting of the Board of Directors to discuss the US Airways merger, negotiations with the Union of Staff Employees (USE) representing AFA-CWA Members of Staff, constitutional concerns, and application of the AFA-CWA Merger Agreement, to be held no later than October 1, 2013."
All BOD Meetings are intended to be conducted in open session, but the Board may declare a session to be closed.  As you can see from the topics included above, it is likely there will be strategic planning as well as negotiations sensitive discussions.  It is likely that some if not most of the discussion will take place in closed session.
In solidarity,
Kevin P Creighan
International secretary-Treasurer
Association of Flight Attendants – CWA, AFL-CIO



2013 Special BOD Meeting Official Packet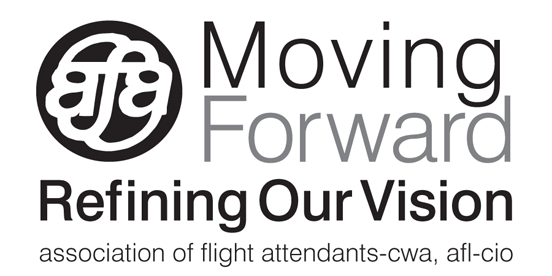 Dear Members:
On 11-13 February 2013, your AFA-CWA Board of Directors (BOD) conducted their Annual BOD Meeting.  During this meeting, all AFA Local Presidents, MEC Officers, and International Officers convene to discuss the priorities of the membership at their respective Councils, Airlines, and Union as a whole.
The meeting took place at the Chicago Westin on Michigan Avenue.  Over the course of the three-day meeting, your elected Officers worked 12-14 hour duty days for the three days, and made many decisions on your behalf.  The deliberations included 26 Agenda Items and six Resolutions.
You will find an index that lists all of the decisions that are embodied in the Agenda Items and Resolutions.  There are links that will take you to each individual item.
If you have any questions or comments, please feel free to let me or your Local President know.
In solidarity,
Kevin P Creighan
International Secretary-Treasurer
Association of Flight Attendants – CWA, AFL-CIO