2HOT2COLD Campaign Introduction
Speech to BOD introducing 2 HOT2COLD app, 10 April 2018
Chris Witkowski, Director ASHSD, AFA-CWA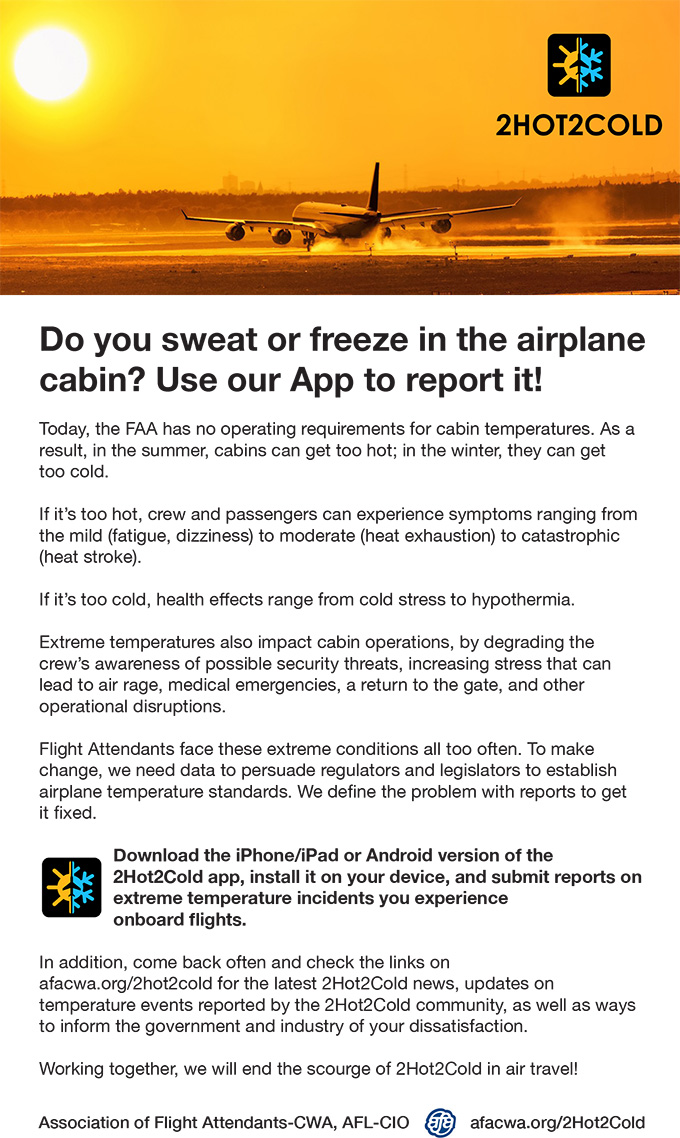 Good morning. It's good to be here with you to talk about a persistent problem aboard airplanes that hasn't received the attention that it deserves.
Let me start with a familiar scenario: A plane is loaded and ready to depart, but then takeoff is delayed, and passengers and flight attendants alike swelter as they await takeoff _ sometimes for hours.
That was exactly the case with United Flight 4644 last June, delayed in Denver's extreme heat.
Emily France, the mother of a 4-month old infant said that the plane was getting dangerously hot…  At one point she said her son Owen's "whole body flashed red, his eyes rolled back in his head and he was screaming … and then, he went limp in my arms. It was the worst moment of my life."
Flight attendants brought ice to Ms. France and another mother and allowed her to stand by an open door with Owen.  She later said: "I thought my child was going to die in my arms.  I am sharing Owen's story in the hopes that this never happens to anyone again.
After this report aired on ABC's "Good Morning America," host George Stephanopolous asked , "Are there any hard rules about what an airline is to do in a situation like this?"  Well, the resounding answer is NO.  And are there any hard rules to prevent a situation like this?  NO– There are no FARs (Federal Aviation Regulations) that limit aircraft temperatures during normal operations.
AFA's Air Safety, Health and Security Department successfully pushed to have voluntary temperature standards for airplanes adopted by the American Society of Heating, Refrigerating and Air Conditioning Engineers in 2007. This industry group sets standards for indoor air quality on airplanes. The ASHRAE standard recommends that cabin temperatures be maintained between 65 and 75 degrees Fahrenheit, not to exceed 80 degrees.  (Or 85 degrees if all inflight entertainment systems are turned on during ground operations.)  The standard also requires manufacturers to install gaspers at each galley work station and crew rest bunk or seat, and super gaspers at each jumpseat.
Our hope was that the FAA would adopt the ASHRAE temperature standards and make them mandatory for aircraft in operation. But that never happened. And now we're excited to launch a new program to develop the documentation that we need to press for tougher action on this issue.
After last summers' extreme heat event, Sara Nelson went on national television and told the country, "Enough! We are issuing thermometers to all of our members and calling on the FAA to set humane temperature standards!" She came back to the office to task us with establishing a system to collect temperature data about those flights when you are either sweltering or your teeth are chattering.
The problem extends well beyond mere discomfort at being chilly or overheated.
If it's too hot, crew and passengers can experience symptoms ranging from the mild issues such as fatigue and dizziness to moderate effects like heat exhaustion to potentially catastrophic heat stroke.
If it's too cold, health effects range from cold stress to hypothermia.
Extreme temperatures also affect cabin operations, by degrading the crew's awareness of possible security threats and by increasing stress that can lead to air rage, medical emergencies, a return to the gate, and other operational disruptions.
Over the years we've seen this as an industrywide problem. And it's become clear we can't wait for the next potentially tragic event to happen before we take action.  We must begin now.
And so we've come up with an app called 2Hot2Cold that flight attendants can install on their iPhones, iPads and Android phones to record and submit reports on the extreme temperature incidents that they experience on board flights. We'll also provide flight attendants with 2Hot2Cold keychains that contain small thermometers on them so they'll have a quick and easy way to know exactly what the temperature is. The app has been in development for 8 months and the survey questions have been tested and reviewed by our experts, air safety committee members, and AFA officers and staff.  It is designed to serve a variety of reporters and operations.
We'll also publicize the new app so that members of the flying public can download the app for free and register extreme temperatures.
We've established a link on the AFA-CWA website that offers the latest 2Hot2Cold news, updates on temperature events reported by the 2Hot2Cold community, as well as ways to inform the government and industry of dissatisfaction with the status quo.
Now I know there will be plenty of skepticism about the odds of enacting new temperature rules at a time when the momentum is for deregulation. But there are plenty of AFA-backed rules on the books that once were seen as impossible goals that we could never accomplish.
Consider some of these notable achievements:
AFA led the long push to ban smoking on airlines. That goal was achieved incrementally: First on two-hour flights, then on 6-hour flights, then on all scheduled flights and, finally, on charters.
AFA research and advocacy led to the development of ASHRAE's first comprehensive standards for air quality on commercial aircraft in 2007. That work was a factor in Boeing's decision to build the 787 with a fresh outside air supply rather than engine bleed air.
AFA led the successful fight to get compressed oxygen in lavatories and closed spaces on aircraft due to security concerns related to the chemically generated oxygen that had previously been in use.
It took 15 years, but AFA would not take no for an answer and succeeded in convincing the government to provide OSHA protection for Flight Attendants while working on aircraft.
When the TSA Administrator decided to allow knives on airplanes, it was AFA that led the campaign to turn that around and convince the TSA to fully reverse its decision within 3 months.  Something like that had never been done in the annals of aviation safety or security.
When flight attendants at Envoy, PSA and Piedmont started complaining that their new uniforms were making them sick, AFA had the fabrics tested and is holding the American Airlines Group accountable. As you know if you saw the video yesterday afternoon on this issue, AFA has notified the airline that we intend to file suit for excessive exposure to formaldehyde.
I want to take this opportunity to praise the experts in your AFA Air Safety, Health and Security Department who are recognized as leaders by industry and government in this work they do: Judith Anderson, Certified Industrial Hygienist (CIH) and Dinkar Mokadam, Aerospace engineer and also a CIH.  They have played leading roles in much of the work that I have outlined and are always ready and willing to work with our MECs and their committees to address the problems their members face on the job.
Now we're excited to be tackling the extreme temperature issue __ and look forward to adding that to the list of problems that once seemed insurmountable but have since been conquered.